Disclosure: Some of the links in this post are affiliate links. As an Amazon Associate, we earn from qualifying purchases. If you click on the link and purchase the item, we may receive an affiliate commission, at no extra cost to you. Learn more
---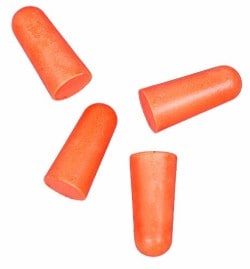 Do you own a business where ear plugs are needed on a regular basis? Do you employ several individuals who need to use ear plugs to keep their hearing intact? Are YOU or other family members in constant need of ear plugs?
Whether you answered yes to one or all of these questions, the fact remains that you need to purchase ear plugs in bulk.
There are many manufacturers out there to choose from, so how do you find the best quality AND the best deal? By reading through the next few pages, that's how.
We've put in the hard work, so you don't have to.  Here's a closer look at the top options we found when it comes to Bulk Ear Plugs.
Bulk Ear Plugs For Every Day Use At Home
Whether you need bulk ear plugs or bulk ear plugs dispensers, we are certain that you will find something within this review to fulfill your needs. For this first section, we'll explore some ear plugs that you can use every day, right at home. Here we go.
Moldex 6800 Pura-Fit (Pack of 200)
These ear plugs give you the highest rated ear plugs around at a noise reduction rating (NRR) of 33.  With a smooth surface and created from extra soft foam, you'll find use and insertion a breeze.  You'll also find that the material won't be too irritating to your skin or ear canal.
One user who is sensitive to noises while sleeping mentioned the quality of these earplugs, going as far as to say that she actually slept through the clock radio alarm, forcing someone else in the room to shut it off.
While another user said these were the best around, another user mentioned that they were uncomfortable for their smaller ear canals.  If your ears are normal sized, then this doesn't sound like it should be too much of a problem (no pun intended).
>> Check out Moldex 6800 earplugs on Amazon
Liberty DuraPlug (200 Pairs bulk)
At a slightly lower rating than the Moldex ear plugs above is the Liberty DuraPlug.  These are rated at a 32, but can still do the job when it comes to blocking out noise.
These super soft ear plugs recover slowly when rolled thin.  Why is this important to know? This is important because you can take your time when forming and inserting them into your ears.
As with the Moldex brand, a user mentioned that the use of these earplugs were great for someone who is sensitive to noise.  The user said that the size is just right – not too long to go too far in your ear, and short enough that they don't stick out of your ears if you sleep on your side.
One user did mention they are on the thinner side, so if your ear canal is bigger, then you may want to try a different brand.
>> Check out Liberty Duraplug earplugs on Amazon
3M Ear Soft Yellow Neons (Case of 200)
Another highly rated ear plug at a NRR of 33 is this offering.  The dermatologically safe foam is ideal for sensitive skin and the soft foam make for a comfortable fit during extended use. 
One user noted that these were the softest and most effective earplugs they had ever used, noting that they need to be used for chronic migraines.  This is encouraging, especially if comfort is of utmost importance to you.
Many users also reported that these are also on the smaller side, so if you have larger ear canals, then these may not work for you.  However, there are others here like the Moldex bulk ear plugs that should do the trick.
>> Check out 3M Ear Soft earplugs on Amazon
Bulk Earplugs Individually Packaged – Our Top Three Choices 
In this section, we'll be looking at individually packaged earplugs.  These also happen to be our top three recommendations.
Kandego Premium Ear Plugs
These bulk ear plugs come individually packed at a NRR of 33.  In this package you'll find 30 pairs ready to hand out to employees, family or friends.  These would be ideal to take with you and share with concert goers, loud sporting events and even at the gun shooting range.
Kandego reported that customers have consistently mentioned that these ear plugs out performed others for effectiveness as well as comfort.  Let's see what actual users had to say.
One user said they were soft, comfy and didn't irritate the ears, which is in line with what Kandego has been reporting.  The same user mentioned that it also does a great job at blocking out the noise.
While there were many that reported the comfort level of these, there were a few rare cases where some users did mention that they were a bit stiff.  However, these reports did seem to be in the minority, rather than majority.
>> Check out Kandego bulk ear plugs on Amazon
3M Classic Earplugs Individually Packaged
As the name says, these are classics.  3M set the standard when it came to the world's first foam earplugs.  These ear plugs are moisture resistant, so they will maintain a consistent expansion time, even when it is humid in your area.  The noise reduction rating is a tad bit lower at 29, but can still do the job.
One user mentioned the versatility of these bulk ear plugs.  The user said that while it does block out the snoring sound from her husband, they are not too overpowering that she cannot hear other sounds like alarms or other noises.
Another user reported the same thing – blocks out snoring, but lets in firm sounds that are important and need to be heard.  And yet another user said they fit perfectly for their small ear canals.
While many applauded their noise blocking capabilities and ability to let firm noises in, some mentioned that they didn't block enough sounds out.  However, when you think about it, wouldn't you want to be able to hear things like fire alarms and other important noises?
>> Check out 3M's Classic ear plugs on Amazon
Howard Leight MAX1 Earplugs (200 Count)
The contoured design on these earplugs make them easier to put in AND stops them from falling out.  Howard Leights are also mentioned as the world's most-used polyurethane foam earplug.
You'll also be happy to note that the soil-resistant closed-cell foam covering prevents dirt from building up, which is important if you want to reuse them.
One user absolutely raved about these saying that everything used to wake her up, but since she started using these, that she sleeps soundly now.
The same user also mentioned the size of these ear plugs, as many have mentioned size being an issue.  The user mentioned that since they come in three sizes that you should be able to find one that fits your ear canal.
If you are looking for noise reduction as well as a variety of sizes, you may want to try these out.
>> Check out Howard Leight MAX1 on Amazon
Bulk Ear Plug Dispenser
If you are in an environment where you'll need to keep a large amount of earplugs on hand that can be easily picked up, then you may want to consider these dispensers.

Moldex Purafit Disposable Foam Earplug PlugStation (500 Count)
This dispenser is completely recyclable and comes with a mounting bracket, template and hardware making installation a cinch.  The high visibility of this station will ensure that individuals will be aware of these stations as they pass by.
Awareness is key, as it will alert them to their hearing protection and should prompt them to grab their earplugs along the way.  A clicking mechanism makes dispensing a breeze.
>> Check out Moldex PlugStation on Amazon
Moldex SparkPlug Dispenser (250 & 500 Count)
This model comes in a station that can dispense either 250 or 500 pairs of earplugs. The assorted colors are eye catching and create awareness for people walking by to grab a pair to use.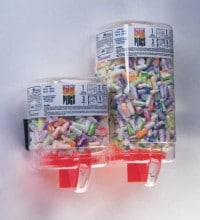 The 250 count station (available on Amazon) comes in at 5.9 x 6.4 x 8.8 inches and weighs in at 1.3 pounds.  Many users reported liking this model, and one even said it helped cut down on waste because it only dispenses one at a time.  The user noted that since it dispenses one at a time, employees are not taking handfuls at a time that could lead to waste.
The 500 count station (here's a direct link) comes in at 6.3 x 6 x 13.7 inches and weighs in at 2.1 pounds.  Users also mentioned the ease in which these are mounted, easy dispensing and the fact that employees are only taking what they need and not wasting them, due to the dispensing nature of taking the two that they need and not more.
If you want to see more ear plugs in bulk, click here to see all available products on Amazon
Disclosure: Some of the links in this post are affiliate links. As an Amazon Associate, we earn from qualifying purchases. If you click on the link and purchase the item, we may receive an affiliate commission, at no extra cost to you. Learn more
---
Last update on 2023-01-22 / Affiliate links / Images from Amazon Product Advertising API