Disclosure: Some of the links in this post are affiliate links. As an Amazon Associate, we earn from qualifying purchases. If you click on the link and purchase the item, we may receive an affiliate commission, at no extra cost to you. Learn more
---
Hunters and gun enthusiasts, listen up if you can. Whether you're out culling quail or just practicing your shot, it's important to protect yourself. Studies have shown that only about 50% of shooters wear proper hearing protection while taking aim at paper targets down at the range, and even fewer do so when they're out in the wild, chasing after game.
Such bad habits can lead to high-frequency hearing loss. You may find yourself surrounded by friends, unable to hear anything that they have to say. You're catchphrase might become, "Huh? What was that?" And that's not a good catchphrase to have when you're searching for a skittish buck.
Luckily though, there's an inexpensive, easy-to-carry invention that protects your ears and allows you to hunt and shoot practically uninhibited — and sometimes better than you would without anything at all.  They're called earplugs. I know you've heard of them. What you need is then, is a pair of the best ear plugs for shooting!
In this article, we'll take a look at the five best shooting ear plugs on the market today, and then we'll look at a few factors that'll help narrow it down and help you choose the best of the best so that your hobby doesn't end up hindering your social life — or itself, for that matter.
Best Ear Plugs for Shooting – Comparison Table
Picture
Product Name
Material
NRR
Price
Our Score

Peltor TEP-100 Tactical Digital Earplug

Rubber / Polymer
23 dB
$$$
4.8
(Read our Peltor TEP 100 Review)

Westone DefendEar Digital Shooter Earplugs

Foam tip
30 dB
$$$
4.8

Decibullz Custom Molded Earplugs

Thermoplastic moldable material
31 dB
$$
4.3

Surefire Sonic Defender EP7

Foam tip
28 dB
$$$
4.4

Liberty DuraPlug Disposable

Foam
32 dB
$$
4.4

Mack's Shooters Ear Seals

Rubber / Polymer
27 dB
$
4.0

Howard Leight Quiet Band

Foam pods
25 dB
$
4.0

Moldex 6800 Pura-Fit

Foam
33 dB
$$
4.5

Mack's Shooters Slim Fit Foam

Foam
29 dB
$
4.4
The 5 Best Earplugs for Shooting 
The GSP-15 GunSport-PRO Electronic Earplugs
Created by Etymotic Research Inc., a research, development and manufacturing company, the GSP-15s not only offer some of the best automatic hearing protection on this list, but they also offer up to five times amplification so that you can still hear conversation and rustling ducks, while still being protected from loud noises. All with the flip of a switch.
Each mode — LO and HI, respectively — offers blast protection, gradually reducing the noise from vehicles, machinery or gunfire from nearby sources, which makes them a great buy for hunters, gun owners or anyone else surrounded by loud and constant racket.
To achieve such feats, Etymotic implemented a handful of ACCU technologies, including high-definition, balanced armature drivers; high-sensitivity microphones and proprietary wide-dynamic, range-compression K-AMP signal processing.
Priced in the hundreds, they're far from the least expensive electronic ear plugs on the market, but they're definitely some of the most dynamic and have been voted the best ear plugs for shooting by many fellow shooters. You can have a clear conversation with someone right beside you and still be protected from any ear-damaging noise in the immediate area.
Additional Information:
NR Rating = 25dB
Includes durable neck cord, cleaning tool, batteries, a protective case and an assortment of ACCU-Fit ear-tips for maximum seal and comfort.
Current Price: 

click to check
The Liberty DuraPlug Disposable Foam Earplugs
As dynamic as the GSP-15s are, these disposables are equally as basic. Made from super-soft, slow recovery foam, they slip right into the ear and are good for at least a day's use. You can take them out a couple of times and, thanks to a quick recovery time, they'll return to shape, ready for reinsertion whenever they're needed.
Priced at about a dime a pair, 200 in a box, they're a bang-for-your-buck type of product, especially since they cancel out noise better than any other item on this list. (See NR rating below.) Their bright orange color also means they're easy to locate in case you forget to bring backups. Amongst foam ear plugs, DuraPlugs are one of the best ear plugs for shooting we've tested.
Additional Information:
NR Rating = 32dB
Corded? NO
Other colors? NO
Current Price: 

click to check
Mack's Shooters Bullet Ear Plugs
Not quite as exquisite as the GSP-15s, but a step up, design-wise, from the disposables, Mack's Shooters Earplugs are some of the best hunting ear plugs on the market today.
They're built with a dual durometer design, which means that two separate plastics were used in its molding process, allowing for easier insertion and increased comfort. The attachable cord keeps them close by when you're practicing at the range. Or, if you're on the move, hunting or training, the cord can be removed to reduce unnecessary noises and for better freedom of movement
Mack's Shooters military ear plugs are also super easy to clean, which is important when you're talking about reusable inserts. At under $5 in most stores, they're pretty well priced as well. That makes them a strong candidate for the best ear plugs for shooting in our little contest.
Additional Information:
NR Rating = 27dB
Comes with a case.
Current Price: 

click to check
The EP4 Sonic Defenders Military Ear Plugs
Built by SureFire, a manufacturer of tactical weapons and accessories, the EP4 Sonic Defenders are a set of non-electrical earplugs that use a triple flanged system to keep the good noises in and the bad ones — over 85dB — out. They also come equipped with a pair of filter caps that can be inserted to reduce lower-level noises, a la talking, for use in airplanes and other crowded areas where you'd rather relax.
They're made from a soft-yet-durable, hypoallergenic polymer that's been optimized for both comfort and durability. (Manufacturer claims that they can last for up to 6 months-plus, as long as they're taken care of.)  A low-profile design means they can be worn comfortably with a mask, helmet or hat, or while using a phone, headphones or earmuffs. Priced reasonably, they're not a bad buy either.
Additional Information:
NR Rating = 24dB (with filter caps inserted)
Comes with a detachable lanyard.
Available in clear, black or orange.
Compatible with radio communication systems.
Current Price: 

click to check
Decibullz Custom Molded Earplugs
It's all in the name. Custom. Molded. Earplugs. That's right. You take the pair of thermoplastic earplug molds, plop them into a pot of boiling water, allow them sit for five minutes, let them cool for thirty to forty seconds and then mold them into the shape of your ears. And if you don't get it right the first time around, you can do it all over again. No problem at all.
Obviously the custom molding means they'll stick and stay in your ear. They're also pain free and provide the second highest NR rating of any earplugs on this list. (See NR rating below.)
Great for shooting, as well as traveling, swimming, music making and concert going. They're not too terribly priced either, especially since they're the first of their kind.
Additional Information:
NR Rating = 31dB
Corded? NO
Comes in blue, red, orange and purple.
Current Price: 

click to check
Tips for Finding the Best Shooting Ear Plugs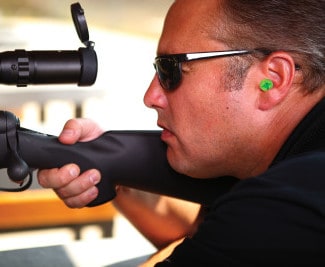 Now that we've covered some of the best ear plugs for shooting on the market, it's time to talk about which ones might be the best fit for you.
Here are a few factors to consider when looking around at proper hearing protection.
NR Rating
All hearing protection devices must first be inspected by the U.S. Environmental Protection Agency before sale. During this inspection, the item is given an NRR, or a noise reduction rating. The number, however, is only an approximation.
To better understand how effective the device truly is, it's best to reduce its NR rating by 50% and then subtract that number from the decibel level you'll be working around. For example, if you're practicing with a .22-calibre rifle that fires off at 140dB and you're using the Liberty DuraPlug Disposable Foam Earplugs with an NR rating of 32, your equation will look like this…
[alert-note]
32dB / 2 = 16dB
140dB – 16dB = 124dB
124dB = A much safer sound for your ears.
It's easy to remember: higher ratings mean less noise.[/alert-note]
Comfort
Let's face it, if the earplugs don't fit right, or if they make your ears hurt because they're a little too big, then you're never going to use them. It's best to do as much research as you can before purchase so that you know you're getting the right size.
Also, if you're constantly on the move, accessories like lanyards and harnesses can get in the way and make unnecessary noise if they're not detachable.
Color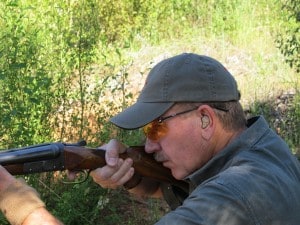 Though color might not matter when you're practicing at the range, it might matter when you're out in the woods, attempting to blend in with the bushes and trees. It's important to take color into account so that those brand new hotrod red earplugs don't send your prey running for cover, or send you home after a four-hour hunt with nothing to show for it.
Shooting & Hunting Ear Plugs – In Conclusion
Hearing protection devices, such as earplugs, should be seen as a safety standard when shooting. So it's best to find a kind that fits and fits well, otherwise you might end up missing the mark in more ways than one. It's worth to pay a few more bucks to get the best ear plugs for shooting possible, for both your comfort and safety.
Disclosure: Some of the links in this post are affiliate links. As an Amazon Associate, we earn from qualifying purchases. If you click on the link and purchase the item, we may receive an affiliate commission, at no extra cost to you. Learn more
---
Last update on 2022-08-09 / Affiliate links / Images from Amazon Product Advertising API