Disclosure: Some of the links in this post are affiliate links. As an Amazon Associate, we earn from qualifying purchases. This means if you click on the link and purchase the item, we may receive an affiliate commission, at no extra cost to you. All opinions remain our own. Learn more
---
Are you tired after long sleepless nights because of your partner snoring like a chainsaw? Your neighbor turned on his favorite gothic metal band just when you started to work?  Or maybe you travel a lot and want to have a quick nap, isolating yourself from the sound of jet engines and little babies screaming on a seat behind you?  There's an easy solution to situations like those above: get yourself a pair of the
best ear plugs
! Long live the silence! Choosing the
best earplugs
isn't easy though. With all those different colors, shapes, materials and sizes, choosing right product can be sometimes tricky. Fortunately, you found us – and we are here to help.
Best Earplugs We've Tested – Comparison Table
| Picture | Brand & Model | NRR | Best For | Material | Disposable | Pairs per Pack | Our Score |
| --- | --- | --- | --- | --- | --- | --- | --- |
| | Moldex 6800 Pura-Fit | 33 | Sleeping | Foam | Yes | 200 pair | 5 |
| | Hearos Ultimate Softness | 32 | Studying | Foam | Yes | 20 pair | 4.7 |
| | Howard Leight MAX1 | 33 | Work | Foam | Yes | 200 pair | 5 |
| | Flents Quiet Please Foam | 29 | Snoring | Foam | Yes | 100 pair | 4.9 |
| | Macks Pillow Soft Silicone | 22 | Swimming | Silicone | Yes | 6 pair | 4.7 |
| | Flents Ear Stopples | 25 | Travel | Wax | Yes | 50 pair | 4.5 |
| | LiveMus!c HearSafe Ear Plugs | 29 | Concerts | Silicone | No | 2 pairs | 4.9 |
| | e-Plugz Best fit Ear Plugs | 33 | Travel | Polymer | Yes | 20 pairs | 4.8 |
| | Surefire EP4 Sonic Defender | 24 | Shooting | Polymer | No | 1 pair | 4.4 |
| | Etymotic Research ER20 ETY-Plugs | 20 | Musicians | Silicone | No | 1 pair | 4.7 |
Best Ear Plugs: What Are They Made Of?
There are four main types of material that best earplugs are made of: foam, wax, silicone and sometimes also polymer. Let's start with the most popular ear plugs made from a foam. The foam that is used for ear plugs is a soft, light 'memory foam'. What does it mean? Compressed foam will expand once inserted into the ear canal until it plugs the ear completely.  To apply a foam earplug, it is recommended to first roll earplug into a thin (tightly compressed) rod, pull back on the ear and then hold the earplug in the ear canal with the finger.  It then takes about 10 to 20 seconds for earplug to expand enough inside the canal to provide a sound isolation you need.
[alert-note]One of the best ear plugs made from foam are Hearos – they have excellent reviews and in our opinion, they are one of the best earplugs available out there. There are two main Hearos products: Xtreme Protection have NRR 33 and are quite large – that makes them perfect for people with bigger eye canals (majority of us, adults). Second model is Hearos Ultimate Softness which are slimmer (firmer) than Xtreme Protection and therfore will be ideal for those with smaller ear canals, including most kids. Both models are incredibly comfy, made from soft memory foam.[/alert-note] Another popular material used for earplugs is the silicone. Silicone ear plugs tend to have lower NRR (Noise Reduction Ratio) than foamed earplugs but are often more practical and. They come in two types – custom molded and flanged earplugs.
The former are made from a soft, hypoallergenic, moldable silicone which is rolled into a ball and then placed into external part of the ear canal in the way they form airtight seal. They are water proof though, and therefore can be used by swimmers. The latter are often commonly used as a hearing protection either at work or in a concert to avoid being exposed to high volume levels for a longer time. They feature double or triple flange design and are comfortable to use (especially these ones, that we fully recommend) Some of the best earplugs are made of soft, moldable wax and cotton which is naturally hypo-allergenic (like, for example, highly rated Flents Ear Stopples). The main benefit of using wax ear plugs is that they are comfy, really comfy. The wax gets softened by a contact with the body and molds gently to fit wearer's ears. Such earplugs are one of the best earplugs for studying and they're also one of the best earplugs for sleeping. [alert-announce]At first, wax earplugs may appear hard. They need time inside the ear canal to melt a little and fit but you can massage the pair of earplugs with your fingers before you apply them. Generally, our recommendation is to stay away from ear plugs that have much cotton and not enough of wax as they are more difficult to form to fit in the ear. If you need a proven pair of wax earplugs, try Ohropax Wax or Flents Ear Stopples.[/alert-announce]
---
Best Earplugs in 2017 – Our Top 5 picks
Moldex 6800 Pura-Fit Foam Earplugs
Some say that silence is the new black. Well, they're right! Especially when you wear Moldex Pura-Fit ear plugs.
What is the highest certified hearing protection rating available for best ear plugs out there? It's 33, and Moldex Pura-Fit ear plugs enjoy this highest rating. Why so? Well, because they are top notch, that's why. The holy grail of ear plug manufacturers is to come up with a product that is both incredibly effective in blocking outside noise and comfortable to wear for long periods. Moldex 6800 does the job brilliantly as it doesn't put too much pressure on ear canal. Moldex 6800 are one of the best ear plugs out there, if not the best. They are made of foam material but what makes them different from Flents Quiet Please Foam ear plugs, for example, is that Moldex 6800 feature longer length for easy fitting and removal. At the same time, they don't get in the way when you sleep on a side. Oh by the way, don't let the single-pair product image on Amazon fool you. These babies come in 200 pair value box so you're getting awesome value for money. You can go buy them with a confidence.
Hearos Xtreme Protection Review
Excellent quality product and one of the best earplugs available on US market. They provide the highest noise reduction rate of highest possible 33 decibels. As other Hearos products, they are made from a soft foam which is both light and comfortable. As mentioned earlier on this page, Xtreme Protection series is recommended for wider ear canals due to the fact that earplugs are rather large and customers with smaller ear canals may feel they expand a little too much causing discomfort when used for all night (if you are such a person, we suggest you take a look on Hearos Ultimate Softness Review or Moldex 6800 Pura-Fit) It is also the size that makes Hearos Xtreme Protection very, very effective in providing noise reduction as they are quite big and airtight. As all foamy earplugs, they are are disposable as well but we've been actually re-using one single pair couple of times and as long as you keep it clean after each use, a single pair will serve you at least couple of times. We also checked Amazon reviews for Hearos Xtreme to find out that most customers give this product five stars for noise reduction. Some customers reported that Hearos Xtreme Protection can make ear a little bit sweaty and itchy, but we actually didn't confirm it in our test.
Hearos Ultimate Softness Review
No products found. If your ear canals are small and you don't feel comfortable with most other foam earplugs, Hearos Ultimate Softness will be perfect for you. Having high NRR of 32 decibels, those discreet-looking best ear plug reduce noise around you with a ninja-like precision, allowing you to enjoy the magnificent sound of silence. Material: super soft foam that brings comfort to smaller ear canals at the little expense of noise protection. These superb quality ear plugs come in a bulk pack of 20 pairs, which is just enough if you keep in mind that each pair can be used at least few times before it goes to trash. As any other foam earplugs, they must be inserted properly for optimium performance (see video at the end of this page for some tips) Click here to see more details about Hearos Ultimate Softness and read customer reviews on Amazon.
Macks Pillow Soft Review
Now it's time for the first pair of the silicone earplugs. With Mack's Pillow Soft Sillicone Putty, you are going love silence. Mack's earplugs are made from hypoalergenic, moldable silicone that doesn't go into the ear canal but instead, it sticks to the ear and forms an airtight seal. The fact that Macks earplugs do not go inside the ear canal has one big advantage: it fits all ears, all canal types. BUT, comfort comes at a price of a lower noise reduction rate – 22 decibels to be precise. The silicone used in Mack's earplugs is soft and molds easily. However, it is a little sticky so it could potentially pick up some dust and dirt. Manufacturer advertises Mack's earplugs as snore proof, water proof and perfect for use in travel. We only tested them in a water and indeed, most swimmers will find them just perfect. We have to admit that the are comfortable. What's also good to know is that there's a special edition of Mack's best ear plugs designed for kids, available here. Mack's earplugs are one of the best ear plugs which are made from moldable silicone. They come in a 6 pair value pack and although they are classified as 'disposable', each sillicone earplug can be used few times until it gets no longer sticky.
Flents Quiet Please Review
There are some earplugs on the market which people tend to use for decades. Flents "Quiet Please" Foam Ear Plugs is definitely one of such products. They are extremaly comfortable, being made from latex free foam that's silkly soft. They're pretty effective too, with noise reduction rating (NRR) set at respectable 29 decibels. That level of NRR is just enough to block loud snoring but not enough to miss the alarm clock in the morning. Dimensions are 0.8 x 0.4 x 0.4 inches which makes them one of the shortest earplugs available – and that helps in comfortable sleeping on a side. The box contains 100 pairs of disposable earplugs and if you buy them online from Amazon, you will also get handy green container so you can always have a pair of these best ear plugs with you. Highly recommended.
---
What to pay attention to when choosing best earplugs?
Buying earplugs isn't rocket science but before you go shopping it is good to know what makes the best earplugs and how to choose the right model that you'll be content with. Without any further ado, let's take a quick look on couple of important things on what to pay attention when choosing the right pair of earplugs.
NRR – Noise Reduction Rating

What's the best way to compare which pair of earplugs will do a better job in reducing noise level? That question would be pretty difficult to answer without an indicator which is called a NRR – Noise Reduction Rating. NRR has been established as an attempt to standarize hearing protection gear's testing formulas used by manufacturers. What for? It's simple: in order to allow us – customers – to easily compare different products on the market. NRR has become an easy to use, universal benchmark and you should always pay attention to its value. If you want to know on how exactly NRR is calculated, this page will help you understand (warning: it's nerdy). If you need simple, practical advice, just read on. The maximum NRR value you can find in earplugs is 33. If you need to chillout for good and want to isolate yourself completely from the environment then best ear plugs for you will be those which are within NRR 30 – 33 range. However, there are many situations in which you don't want to go deaf completely but rather want to protect your hearing – while being at work, while shooting or while listening to your favourite rock band at a music festival. In such case, ear plugs that are within 25 – 30 NNR range will definitely do good job protecting your hearing. Are you a swimmer looking for earplugs? Don't pay to much attention to NRR then. Instead, focus on the material the ear plugs are made of and don't forget to check if they are waterproof.

Ear plugs size

Before you decide on the specific earplugs model and brand, you should determine the size of your eye canal. The bad news: everyone's ear canal differs in size, shape. The good news: it's pretty easy to check which size are yours. Do you, or anyone around you, have in-ear headphones? They usually come with various sizes of silicone tips. Just try all of them to see which one fits best, then check if that was the largest, smallest or the medium tip – fast and simple. Alternatively, you can go for medium size ear plugs which are usually universal ones and most of them, especially foam plugs, will adjust to ear when put inside.

Price vs. Amount

If price is one of your main criterias for choosing best ear plugs then pay  attention to the size of the box. Sometimes the cheaper product turns out be more expensive as you need to buy it more often. As it tends to be with all products, larger boxes are usually more economically effective. If you're about to purchase disposable earplugs then we suggest going after the large quantity at once. Refer to our article about bulk ear plugs for more information and buying tips.

Disposable or not?

Earplugs which are made from foam are usually disposable earplugs. That doesn't mean that you they are intended for a single use only but generally they can be used for a limited number of times and it is a good practice to replace them with a fresh pair every couple of uses. Same goes for earplugs which are made from moldable silicone. For example, Mack's Pollow Soft manufacturer recommends to discard earplugs when they're soiled or the silocone is no longer sticky and that, from our practice, usually happens after 3 to 5 uses. If you are looking to buy non-disposable earplugs, we recommend going for molded earplugs.  They will serve even 3 – 5 years but require professionally taken impression of the wearer's ear canal to be taken, so then the custom hearing protector can be made in laboratory. That requires time and even more importantly more money as it is pretty much guaranteed that the custom moulded earplugs will be way more expensive than standard, disposable earplugs.
---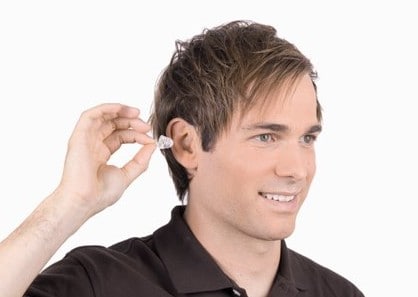 How To Use Earplugs Properly
You've probably used earplugs before, but there's a good chance that you aren't truly blocking noises with casual insertion. Even worse, you can get an ear infection if you didn't do it properly. If you want to really block noises and use it safely, you need to read the following quick tips of how to use earplugs properly:
Wash Your Hands

This is important. Ears are sensitive organs and easily exposed with dirt and germs. Germs can cause infection. Before you attempt to handle earplugs, make sure to wash your hands. Wash your hands with soap and clean running water before using earplugs.

Get your hands wet with clean water and then scrub your hands with soap. Rub your hands for 20 seconds. Make sure to wash under your fingernails, between your nails, and the backs of your hands.
Rinse your hands completely when you're done. Then, dry your hands with a clean, dry towel.

Roll and Compress

With your clean hands, hold your earplugs between thumb and forefinger. Roll and progressively compress the entire tapered end of the earplug to a small wrinkle-free cylinder.

You need to roll the earplug into a small cylinder shape. This will make it shape smaller so it can be easily inserted into the ear canal. The foam will expand again once you've fitted it inside your ear, blocking sound. If the earplugs are particularly thick, you can roll it between your hands instead. Just make sure that you are just thinning the ear plug out lengthwise, rather than rolling it up into a ball.

Insert to Ensure Fitting

Slowly and carefully insert the plug it into your ear canal. It should easily slide in place with your ear canal expanded slightly. Do not put the plug in too far. While most of the foam body should be in the ear canal, there should be enough of the plug outside the canal that you can easily grasp it with your fingertips. Adjust the position and make sure you're comfortable once the earplugs fitted in your ear

Hold in Place for 15 seconds

Hold the earplugs in place with your fingertips. This will allow the foam to expand, preventing sound from getting into your ear canal. Slowly count to 15 as you hold the plug in place.

To check if the earplugs are working, listen to yourself speak. You should sound muffled, as should the sound around you. Do not expect it to completely silence the surroundings, but simply quiet them.
If the earplugs are not working, you may need to try a different form of plugs or possibly smaller ones. Most of the foam body should be in your ear canal by the end. Sometimes, you have to try again if the foam is not sealing sound out properly.
You may also want to read this post if you need more details on inserting and removing different types of earplugs.
>> See all best selling ear plugs on Amazon <<
Last Update: 01/29/2017 Other related posts:
Last update on 2023-11-27 / Affiliate links / Images from Amazon Product Advertising API