Disclosure: Some of the links in this post are affiliate links. As an Amazon Associate, we earn from qualifying purchases. If you click on the link and purchase the item, we may receive an affiliate commission, at no extra cost to you. Learn more
---
It happens to everyone.  Everyone that spends time swimming or in the water, that is.  How many times has this happened to you – you get done swimming, surfing or spending time in the water when you get that all too familiar discomfort in your ears.
You know the feeling – trapped water.  Now, you can try tilting your head, and do your best to "shake" the water out or wait until it dries out on it's own (which can take a while). These are both reactive and fine attempts to try and solve things, but what would be MUCH better is if you could prevent it from happening in the first place.  You know, being proactive.
How can you do that, you ask? You can do so by getting best earplugs for swimming.  We've done the work and reviewed some of the top products on the market here on our website, so you don't have to.  Let's have a look.
Best Earplugs for Swimming Reviews: Our Top Picks
Macks Pillow Soft Silicone Earplugs – Doctor Preferred Best Ear Plugs for Swimming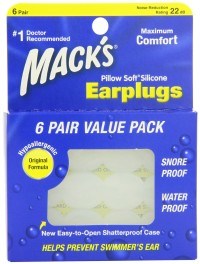 This pack of four comes with six pairs in each box.  You really can't go wrong with America's best selling moldable silicone earplugs, which means they can be made to fit any ear.  The ability to form and shape it has been reported by many users as a plus.  Some have even used a piece of a whole earplug to customize the fit even more.
Remember earlier, when we talked about being proactive?  You'll rest easy with these, knowing that Doctors recommend Macks for keeping the water where it needs to be – outside of your ears.  Macks earplugs also help to prevent swimmer's ear.
While these are moldable to any ear, some users suggested slightly moistening the earplugs to get a better fit when inserting into the ear.  While some noted the ability to keep the noise out with these earplugs, many suggested its best use is as swim ear plugs or water ear plugs.
One thing worth mentioning though, is that some occasionally experience a piece of the ear plug breaking off into the ear canal.  However, this has more to do with the ear plug not being properly molded enough and formed into the right shape before use, than it does with the actual product.
>> Check our review of the Macks Earplugs or read the customer reviews on Amazon.
Swim Elite Swim Ear Plugs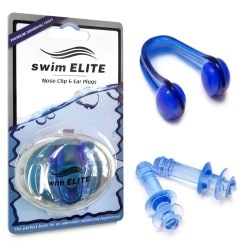 Are you looking for a complete solution to keep the water totally out?  If you are, then Swim Elite's bundle of best earplugs for swimming and nose clip is EXACTLY what you need.
These earplugs and nose clip provide the seal required to keep the water out, while not being too intrusive on your body to cause discomfort.  You can also try these risk free for 90 days.  If you don't like it, just return them for a complete refund.
Many users reviewing this product mentioned its ability to fit different individuals.  Many parents mentioned getting them for their children and fitting nicely, while trying them for themselves and finding that they fit ideally as well.  Some users also enjoyed the bright colors noting they made for easy finding should they be accidentally dropped in the pool.
While this is a great combo pack, several users did  mention the fit of the nose plug.  The combo pack should fit for most, but may not fit as well in some rare cases.  If you need a nose clip and earplugs, then this just may be the best swimming ear plugs combo you have been looking for.
>> Check out Amazon for the best deal on the Swim Elite earplugs
Medical Grade Doc's Pro Ear Plugs – One Of The Best Swimming Ear Plugs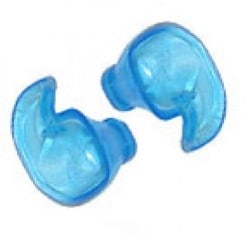 While Macks and Swim Elite above focused more on preventing problems with water getting into the ears, Doc's focuses on those who may already have Swimmer's Ear or are experiencing other ear issues.
If a family member is currently experiencing recurring middle ear infections or recently had a ventilation tube operation done, then you may really want to think about purchasing Doc's Pro Ear Plugs.
These ear plugs are recommended by Ear, Nose and Throat (ENT) doctors and are used primarily to lower the risk of exposure to swimmer's ear, or infections of the middle ear.
Many parent's of users of this product, who are children, rave about how comfortable they are in their child's ears.  However, there are some users who brought up complaints about the sizing of the ear plugs, stating that they would fall out.
Of the individuals who reviewed this product, it seemed to be most popular with children and surfers.  If you are looking for the best earplugs for surfing or water ear plugs for your child, then this may be exactly what you need.
>> Check out Amazon for more details on the Doc's Pro ear plugs
Why Use Earplugs Use During Swimming?
You really may not have considered using earplugs while swimming, but one bout of Otitis Externa, also known as Swimmer's Ear, and you'll be reaching for those earplugs faster than you can imagine.
The problem with swimmer's ear is water getting into the ear canal, staying there and becoming a breeding ground for infection.  In order to combat this, using waterproof ear plugs during swimming is ideal.  In fact, it's probably THE best way to keep the water from ever getting in your ears to begin with.
Swimmer's Ear – Know the Symptoms
Swimmer's ear has different stages and can get progressively worse if it goes untreated.  If you are swimming regularly or in the water on a regular basis, then your chances of getting swimmer's ear increases as well.
This is typically early on in the infection and you may begin to notice some itching in your ears.  During this stage you may also experience some discomfort.
As the infection progresses, you'll start to get more symptoms such as an increase level of pain, more itching, your hearing may begin to get affected and you may experience some swelling in your ear canal.
At this stage, you'll start to experience pretty severe pain.  You may also have a pretty significant blockage in your ears and a change in your hearing.  You may also start to experience other things such as a fever.
So, how can you avoid this?
That's right – waterproof earplugs.
How To Find The Best Swim Ear Plugs For Your Ears 
While different ear plug reviews were done here, there are some things you may want to take into consideration when you begin the purchasing process.  Here are some of them. 
Are they easy to put in and take out?  Do they stay in your ears or fall out during use?  Can they easily be lost due to color?  Just some things to think about.
Do they irritate your ears or make them itchy?  Do they feel too large in your ears?  Are they hypoallergenic?  Comfort is a big deal when it comes to your ears, so make sure you choose wisely.
Are they working when you need them the most?  If your current ear plugs still let water in, then perhaps it's time to find a another brand.
The corded variety will help from being lost, but may cause other issues with comfort. Corded ear plugs may also hinder the activity you are doing in the water such as swimming.
Some other things to keep in mind when looking for ear plugs is cost, whether or not they are washable and additional accessories such as a carrying case. To get the best bang for the buck considering going after bulk earplugs.
If you have been looking for the best earplugs for swimming to use in the water, be sure to check out the many we have reviewed for you here.  Keep in mind your own needs and wants when it comes to waterproof ear plugs, and you'll be well on your way to finding the right pair for you or a loved one.
Click to see all swimming ear plugs on Amazon
Disclosure: Some of the links in this post are affiliate links. As an Amazon Associate, we earn from qualifying purchases. If you click on the link and purchase the item, we may receive an affiliate commission, at no extra cost to you. Learn more
---