Disclosure: Some of the links in this post are affiliate links. As an Amazon Associate, we earn from qualifying purchases. If you click on the link and purchase the item, we may receive an affiliate commission, at no extra cost to you. Learn more
---
Gone with the wind wasn't just a movie.  It can be used to describe your hearing, or lack thereof, if you aren't careful. All too often, people assume that it's a loud motorcycle that causes hearing loss when the real culprit is wind. What?  Yes, you read correctly. Constant exposure to the noise caused by wind is what can cause your hearing to go.  Which is why it's so important for you to take the necessary precautions so that your hearing isn't gone with the wind. Here's a closer look at the best motorcycle ear plugs on the market that can help to keep your hearing intact.
Motorcycle Ear Plugs & Noise Cancelling Earphones – Comparison Table
| Picture | Model | Type | Material | Noise Reduction (NRR) | Our Score |
| --- | --- | --- | --- | --- | --- |
| | NoNoise 3PROM0160 Motorsport | Earplugs | Polymer | 21 dB | 4.7 |
| | Plugfones Motorhead | Earplugs + Earphones | Foam | 25 dB | 4.8 |
| | Moldex 6800 Pura-Fit | Earplugs | Foam | 33 dB | 5.0 |
| | Etymotic Research MC5 | Noise Isolating In-Ear Earphones | Polymer | N/A | 4.8 |
| | Howard Leight MAX1 | Earplugs | Foam | 33 dB | 4.7 |
| | Hearos Xtreme Protection | Earplugs | Foam | 33 dB | 4.9 |
Best Motorcycle Ear Plugs – Our Top Picks
NoNoise 3PROM0160 Motorsport Ear Protection
One of the MAIN reasons riders don't want to wear earplugs is the chance that ALL noises won't be able to be heard, including important ones like sirens.  These specifically designed motorcycle ear plugs, allow you the ability to hear noises at a lower level such as horns and conversations, while blocking out the problematic higher level wind noise. Users like the NoNoise as it blocks out the wind noise, while still being able to hear their headsets.  Some have said that the wind noise is not completely gone, but reduces it tremendously. While many may feel these are the best ear plugs for motorcycle riders, some have voiced concerns over their ability to remove them after use.  If your hearing is still functioning after your next ride, then perhaps this little concern of removal after use isn't such a deal breaker.  Or if it is, just get yourself a good pair of tweezers. >> Check out NoNoise earplugs on Amazon
Moldex 6800 Pura-Fit Disposable Ear Plugs – Best Motorcycle Ear Plugs For Easy Fit And Removal
It can get rather frustrating when you put something in your ear and have difficulty getting it out.  If placing and removing ear plugs is something that you struggle with, then you may want to check out the Moldex 6800 series.  The longer length of these ear plugs make it the ideal candidate for the individual looking for easy access when it comes to motorcycle ear plugs. Some users who have sensitive hearing enjoyed using these as they were able to keep the unwanted noise out.  One of the biggest pluses for users has been the ability to put these into place and remove easily. There were some users however, that did report the ear plugs' inability to stay in their ears.  This could be attributed to the different sized ear canals, but one must remember that not all ear canals are the exact same size.  If you are looking for an ear plug option that provides easier placement and removal, then you may want to look more closely at these. >> Check out Moldex 6800 earplugs on Amazon
Howard Leight MAX1 Earplugs Uncorded NRR33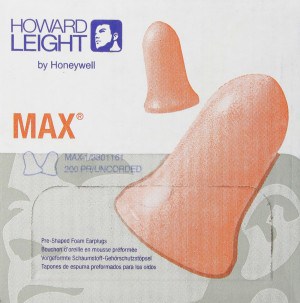 These are meant for single use, so if you are looking for a disposable pair you can throw out after your next ride, then take a look.  The closed-cell foam structure of these ear plugs also help to prevent unwanted build up of dirt.  It's shape is beneficial as well as it helps prevent it from falling out of your ears. Users who wear these during long rides have mentioned that they are a bit too big to be comfortable all day, but are great at reducing wind noise.  Another user also reported stabilizing hearing loss (not losing more hearing as measured at checkups) thanks to these one of the best motorcycle ear plugs. There are many who praise the MAX1, but there are some who have reported their large size as being a concern.  Others have also mentioned needing a little lubrication to put them in.  While these are valid concerns, their disposable one-use nature may help in your decision making should you decide to go with the MAX1. >> Check out Howard Leight Max1 on Amazon
It's Time To Test Your Knowledge
Choose the best answer:   Motorcycle ear plugs… a) …Block out all of the noise completely when you are riding your motorcycle. You won't be able to hear the wind, horns, sirens or your headset. b) …Block out noises at a higher frequency, such as wind noise, which is what actually can cause you to lose your hearing, while still allowing you to hear noises at a lower frequency such as sirens and conversations. c) …Just make your ears feel funny.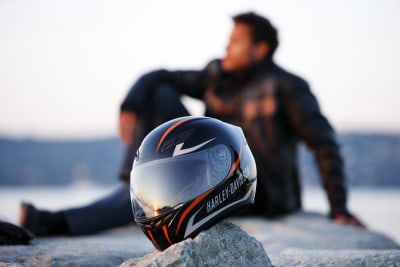 The correct answer is B.  One of the benefits of wearing motorcycle earplugs is that you'll be reducing the amount of exposure to wind noise, while still being able to hear important things such as sirens and horns. True Or False:  All earplugs are one size fits all False.  While many ear plugs are one size fits most, you may find that your ear canal is in the minority being too narrow or too wide.  However, this can be remedied quite easily as some ear plugs can be molded, fashioned to be smaller or even combined to make the perfect fit. Fact or Fiction:  You don't need earplugs if you have a full face helmet. Fiction.  While you will experience a reduction in the amount of exposure to wind noise, it won't be significant enough to allow you to go without motorcycle ear plugs. When it comes to your health and well being, don't you think splurging on some ear plugs is worth it?  There's no price you can put on retaining your ability to hear.
3 Reasons To Use Motorcycle Earplugs On Your Next Ride
Reason # 1:  Prevent any more hearing loss
If you are already experiencing hearing loss, don't wait until it's completely gone.  Investing in a pair of best earplugs may be exactly what you need to keep whatever is left of your hearing.
Reason # 2:  Small investment for possibly big returns
When trying out a new product, cost can definitely get in the way.  It's difficult to try something out if it will cost you an arm and a leg.  With the affordability of ear plugs, the benefits definitely far outweigh the involved cost.
Reason # 3:  You'll have more energy
Have you ever heard of noise fatigue?  Constant exposure to wind noise can actually make you tired.  If you have been getting fatigued on long rides and need a way to replace that energy, then the simple fix may be right in front of you – ear plugs. Not only will it save your hearing, but it'll save your energy as well.
Best Motorcycle Ear Plugs: The Bottom Line
Whether your hearing is going, you want to save what's left of it or want to reduce your exposure to wind noise, motorcycle ear plugs can provide the much needed protection you are looking for. We've already reviewed some of the best motorcycle ear plugs around.  All that's left is for you to choose the best ones for your needs.  When it comes to your hearing, you cannot afford to expose yourself to the harsh winds when you ride.  Pick up a pair of motorcycle ear plugs and ensure that your hearing isn't gone with the wind. >> Check out all motorcycle ear plugs on Amazon https://www.youtube.com/watch?v=ihKXVTsPWlc
Disclosure: Some of the links in this post are affiliate links. As an Amazon Associate, we earn from qualifying purchases. If you click on the link and purchase the item, we may receive an affiliate commission, at no extra cost to you. Learn more
---
Last update on 2023-11-24 / Affiliate links / Images from Amazon Product Advertising API