Disclosure: Some of the links in this post are affiliate links. As an Amazon Associate, we earn from qualifying purchases. If you click on the link and purchase the item, we may receive an affiliate commission, at no extra cost to you. Learn more
---
Did you know that up to 25% of us adults snore every night and up to 50% of people snore occassionaly? Snoring can be a serious problem and you can find lots of articles out there about the common causes that make people snore at night, not to mention a number of snoring solutions available.
We, however, want to tackle the problem from a different angle: if millions of people snore every night then that is not a laughing matter for millions of other people sleeping next to them.
More and more people try to find a solution that let them sleep peacefully next to their snoring loved ones. One of the simplest and cost effective ways to get some sleep next to your snoring partner is to wear good earplugs.  What are the best earplugs for snoring then?
For those of our readers who just need a quick recommendation, here's a comparison table featuring what we think are best earplugs for snoring. By best, we mean earplugs that are extremely effective (high NRR) and super comfortable to wear.
Earplugs for Snoring – Recommended Products
| Picture | Model | Material | Noise Reduction (NRR) | Best for snoring? | Our Rating | Amazon Link |
| --- | --- | --- | --- | --- | --- | --- |
| | Moldex 6800 Pura-Fit | Foam | Excellent (NRR 33) | yes | 5.0 | view product |
| | Liberty Duraplug | Foam | Excellent (NRR 32) | yes | 5.0 | view product |
| | Howard Leight MAX1 | Foam | Excellent (NRR 33) | yes | 4.8 | view product |
| | Ohropax Wax | Wax | Very good (NRR 27) | yes | 4.6 | view product |
| | Hearos Xtreme Protection | Foam | Excellent (NRR 33) | yes | 4.9 | view product |
With plenty of different products available in sale it is often not clear which pair of earplugs will be both effective in blocking sounds you don't want to hear AND comfortable enough to let you
sleep
 like a baby. After all, earplugs have different purposes and not all of them are intended for sleeping.
Even amongst those which are recommended for sleeping, not all products provide good enough noise reduction level to block snoring effectively. This where we step in. We tested many different earplugs and shortlisted those that passed our evaluation criterias and are considered best ear plugs for snoring. Let'see what those criterias are.
Best Earplugs for Snoring – How to Choose?
We prefer to look at earplugs from the practical perspective. We won't be talking much about scientific differences of one earplugs vs. the others. The way we approach our testing was simple. In our opinion, best earplugs for snoring are those which are:
a) most effective in blocking noise (snoring)
There are just couple of products that have been credited with a high Noise Reduction Rating – called the NRR. The NRR is used in US and affiliated countries to rate hearing protectors by the level of sounds they block when used without any other noise-blocking objects. Maximum NRR that earplugs can currently have is 33.
Earplugs for snoring partner should have high NRR, ideally above 30. That level of noise reduction provides the best isolation and it's pretty  much guaranteed that your loudly snoring roommate will not annoy you anymore (snoring can get annoying, let's be honest here)
b) most comfortable to wear when you sleep
Because earplugs to block snoring will be used when sleeping, it's essential that they are comfortable to wear. Size matters here, even more than the material itself, because too large earplugs can develop too much pressure on the ear canal.
It's therefore important not take pick up earplugs that are too big when inserted. Otherwise you may wake up several times during night not because of your partner snoring like a banshee but because of the pain in your ear.
Also, many people sleep on a side and some earplugs can be simply too long and stick out from the ear, making side sleeping an uncomfortable experience.
On other hand, if you have larger ear canals, you shouldn't use smaller earplugs (such as Hearos Ultimate Softness, which feature shorter design) as those may not provide an airtight block when they expand inside the ear tube. They may be simply too small for bigger ears. For larger ear canals, we recommend either  these  earplugs or these, both of which have highest NRR available, which is 33.
5 Reasons To Choose Earplugs To Block Snoring – In Case You're Still Undecided
Snoring is a complicated problem with several root causes, which makes it difficult to address. Also, the snorer may not use their snore solutions consistently, which still leaves a night of loud breathing and tossing and turning for their partner. The best solution for snorers is either a snoring mouthpiece or – even better – a breathing machine that helps open up their airways to allow more air to flow (but usually these machines also emit a loud whir that snorer's partners must also deal with).
How do people usually deal with snorers?
Put a pillow over their heads. But this can get hot and won't fully drown out the noise.
Nudge their partner until they wake up. And then hope they don't fall back asleep again…ever.
Sleep in a different room.
The last solution is a very common one. If nose strips and nasal sprays don't work, people often assume that moving to another room is the only possible solution. While this may work for some couples, for others it may not be an ideal situation. So what can the partner of a snorer do to take control of their own restful night? Earplugs.
Earplugs are not often the first solution people go to when trying to solve a snoring problem. They have the belief that earplugs are uncomfortable or damaging to their ears. Below are the advantages of wearing earplugs to stop snoring:
Control over your own sleep and health. Even if your partner does not use their snoring solutions, you can always put some good sleeping earplugs in for a restful night's sleep.
They are a personal solution. You do not have to force your partner to try a breathing aid or to sleep in a different room. Not only are you controlling your own sleep, but also you are also not forcing your partner into something he or she does not want to do.
They are safe. Trust our guide or do your research regarding the material, make, and noise reduction rating to find the best product for your needs. Most reputable earplug brands create products safe for nighttime use.
They will drown out other noises as well. It is likely that snoring is not the only sounds you are facing. You could also have noisy neighbors or cars on the street outside, or maybe your snoring partner has a breathing machine or white noise machine that keeps you up at night. Earplugs will put you into a peaceful state free from all noise.
They prevent further strain on a couple's relationship. When you own your own sleep, you feel less resentment towards a partner who is sleeping like a very loud baby while you are awake. If you can both sleep equal amounts in the same room, the nighttime relationship tension will dissolve.
The best way to handle a snoring partner to sleep well next night? Take control of your sleep, and drown them out with earplugs.
Best Earplugs for Snoring Reviews – Our TOP Picks
Here are some of the best earplugs to block snoring that we could find (and review):
Moldex 6800 Pura-Fit Foam Earplugs
We already recommended Moldex 6800 Pura-fit in our article about best earplugs for sleeping. These earplugs are amazing. Not only they have excellent 33 NRR rating, which makes them one of the highest rated earplugs amongst those available on US market, but they are also made from a very soft memory foam.
They are designed to make you sleep calm through the night are due their high effectiveness, they are guaranteed to protect you from a snoring spouse.
Important note: Moldex 6800 are quite big as they feature longer lenght. If you have smaller ear canals, they might stick out (in such case, we recommend Hearos Ultimate Softness which are firmer and a bit shorter).
Howard Leight MAX1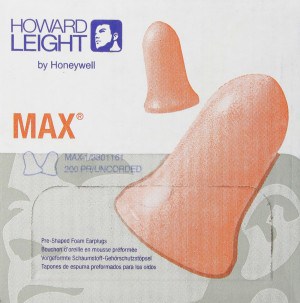 Millions of people use Howard Leight products and their Max1 earplugs are one of the best earplugs for snoring you can find. Reasons? Similarily to Moldex 6800 Pura fit, Max1 earplugs (check current price on Amazon) enjoy a 33 NRR rating which means they will isolate you completely from any kind of noise, including snoring.
Those awesome earplugs are made from a soft, polyurethane foam and are in the shape of a bell. Contoured design makes them a little easier to insert than conventional earplugs and at the same time it resists the tendency to back out from the ear tube.
Keep in mind that Max1 earplugs are quite large but Howard Leight also has two other earplugs that we can recommend trying. Their LL1 Laser Lite Earplugs (available here) are medium sized whereas LPF-1 Max Lite (current price here) are the smallest amongst these three models.
Hearos Xtreme Protection
Hearos earplugs have the reputation for being both effective and super comfortable to wear. Indeed, they are one of the best earplugs for snoring. After all, not all products can enjoy 5-star reviews from more than 400 reviews (and over 860 reviews in case of Heroes Ultimate Softness).
We love Heros Xtreme Protection, available here, for being super comfortable. Needless to say, they wouldn't make it on the list if they wouldn't be effective in blocking snoring. The are effective, very effective. It doesn't come by surprise they've received highest 33 NRR rating, too.
Two things to consider: Xtreme Protection will be perfect in case you need large (standard size) earplugs. If you have used earplugs to block snoring before and you didn't feel comfortable when sleeping, we recommend you to get Hearos Ultimate Softness as they have been specifically designed for person with smaller ear canals and are as good as Xtreme Protection (NRR is 32 though, slightly lower – but we haven't found any difference when testing both pairs).
Ohropax Wax Earplugs

Ohropax are highest quality wax earplugs. If you have "delicate" ears earplugs made from foam are causing pain for when you wear them all night, and even small earplugs don't provide a relief, then you should definitely try Ohropax.
These are fantastic earplugs made of wax which will form to your ear once inside your ear canal. This way, it fits to the shape of your ear and provides an airtight seal – exactly as you need.
The have a bit lower noise reduction rating (27) but even that's enough to let you sleep calm next to your snoring partner.
Perhaps the biggest advantage of Ohropax earplugs is that they are one of the most comfortable earplugs for snoring we've used. When we checked some Amazon reviews, some people even call them "A REVELATION". We can pretty much understand why.
Related Articles you might like:
Disclosure: Some of the links in this post are affiliate links. As an Amazon Associate, we earn from qualifying purchases. If you click on the link and purchase the item, we may receive an affiliate commission, at no extra cost to you. Learn more
---
Last update on 2022-08-09 / Affiliate links / Images from Amazon Product Advertising API