Disclosure: Some of the links in this post are affiliate links. As an Amazon Associate, we earn from qualifying purchases. If you click on the link and purchase the item, we may receive an affiliate commission, at no extra cost to you. Learn more
---
What do you think of when you hear the words white noise machine? For some it may sound like the name of a cover band, but for others it could mean the ability to finally get a good night's rest.
White noise machines, also known as sleep machines (or sound machines) produce random sounds that help individuals to fall asleep, so if taking naps or turning in for the night has been a concern of yours, then this may be exactly what you need.
There are many out there, but what works for some may not work for others.  When it comes down to it, the best white noise machine is really the one that's best for you. We've taken a look at and evaluated many of them and have come up with our top five recommendations.  The table below groups some of the best white noise machines we've found and then, just below, you'll find even more white noise machine reviews:
Best White Noise Machines – Comparison Table
| Picture | Model | | Price Range | Our Rating | More details |
| --- | --- | --- | --- | --- | --- |
| | Ecotones ASM1002 Sound Machine | | $$$ | 4.8 | Amazon link |
| | LectroFan Fan Sound and White Noise Machine | | $$ | 5.0 | Amazon link |
| | Marpac DOHM-DS White Noise Machine | | $$ | 5.0 | Amazon link |
| | Graco Sweet Slumber Sound Machine | | $$ | 4.7 | Amazon link |
| | Homedics HDS-1000 Deep Sleep | | $$ | 4.7 | Amazon link |
| | Sound Oasis S-550-05 Sound Therapy | | $$ | 5.0 | Amazon link |
| | Sleep Easy Sound Conditioner | | $ | 4.6 | Amazon link |
| | HoMedics SS-2000G Sound Spa | | $ | 4.6 | Amazon link |
| | Conair Sound Therapy Sound Machine | | $ | 4.5 | Amazon link |
White Noise Machine Reviews: Our Top Picks
Marpac DOHM-DS Review: A Natural White Noise Sound Machine
This machine is the official sound conditioner of the national sleep foundation.  It's perfect for any environment where unwanted or annoying noise may be a problem. Unsurprisngly, it's been voted the best sound machine by thousands of customers – including some of those who left .
The DOHN-DS would make the ideal gift for college students residing in a dormitory, someone living with loud family members or the tenant surrounded by noisy neighbors.
The Marpac's sleep machine produces the sound of consistent rushing air that can be controlled with a few simple rotations.  You simply adjust the noise to the level you require and you'll soon find the calming sound covering that unwanted noise.
With other machines, many have complained of hearing and recognizing the looping playback pattern of the recorded noise, taking away from its ability to help them fall asleep.  What you'll find with the Marpac DOHM-DS is that the sound is actually happening as you hear it, due to the two-speed motor and asymmetrical fan.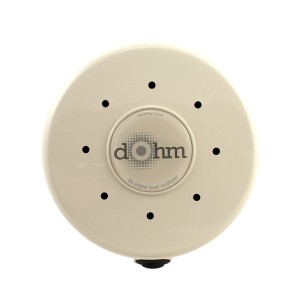 Keep in mind that this machine is not battery powered, so it will need to be plugged in.  While this may sound like a drawback, it really isn't.  Think about this scenario: you are just about to fall asleep when the batteries die and you need to get up and replace them.  That non-battery powered machine isn't looking bad at all, now is it?
The Marpac DOHM-DS (here's the Amazon link) is 3 and ¼ inches high and 5 and ¾ inches in base diameter.  Weighing in at just less than two pounds, this machine won't take up too much space in your bedroom and is small enough to travel with you.  The eight foot power cord, which runs on a standard US 120-volts, is long enough so you can place it virtually anywhere in the room.
If you've got unwanted, annoying or irritating noises around you, then this may be the best sleep machine for your needs.
LectroFan Fan Sound And White Noise Machine
Can't fall asleep?  Don't reach for those sleeping pills just yet.  Why not give LectroFan a try.  If you've been looking for the best fan for white noise out there, then this should interest you.
In all, you'll have 20 sounds to choose from, which break down to 10 non-repeating unique fan sounds and 10 non-repeating unique white noise sounds, to rid yourself of the distracting noise.
Want to know the beauty of this white noise fan machine?  The fact that there are absolutely no moving parts to deal with.  Think of it this way – all of the benefits of fan sounds without any fan blades to worry about getting dirty or needing cleaning of any kind.
You can use this during the day or night to cover any of the other noises that may be intrusive.  If you're trying to read, study or concentrate and get easily distracted, then this may be your go to white noise machine.
Why?
It plugs right into your computer, that's why.  Take it on the go and plug it into your USB port, external battery pack or into the included AC Adapter (runs on 100 to 240 VAC).  You'll also find that the 4.4 by 2.2 by 4.4 inches in size and weight of a little over a pound, will make it easy to go wherever you go.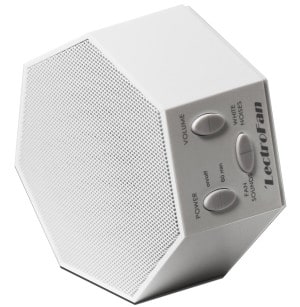 If you aren't into nature or ocean sounds and just need good old-fashioned fan sounds, then this should help.  This noise machine is perfect for the office or home.  If it's too quiet to the point where you don't want to be able to hear every little noise, or need to drown out that barking dog next door, then the LectroFan can do the job.
Some have brought up issues of clicking and speaker feedback noises when it's turned up above a certain volume level, but when you think about it that may be a much better option than listening to a dog bark at everyone that passes by.
If you want 20 unique sounds that aren't nature related, AND need something you can plug into your computer, then you may want to give the LectroFan a shot.
Homedics Sound Spa Portable Sound Machine
If you are the outdoors type and always on the go then this just might be the best white noise machine for you.  The Homedics Sound Spa offers 6 nature sounds in all (ocean, summer night, rain, thunder, white noise and brook).
One of the best features of the Sound Spa is the varying timer setting.  You can select a 15, 30 or 60-minute auto off timer so it goes to sleep when you do.  The portability, power options (battery or adapter) and variety on the Sound Spa make it ideal for frequent travelers and new moms.
Many have enjoyed the various sounds that this machine offers and found that listening on the lower setting did the trick.  Some however, mentioned that the ocean sounds were not very realistic.
If you were looking for a travel companion to help you sleep, enjoy the sounds of nature and understand that the closest thing you'll get to ocean sounds is actually sleeping on the beach, then this would be ideal.
The size and weight of the Homedics Sound Spa should make it easy to fit in most travel sized bags.  Its dimensions are 10.2 by 7.8 by 2 inches and weigh a measly 1.3 ounces.  While it is a bit larger than the others listed here, it makes up for it in its lightness. Where to buy one? Try Amazon, here's a direct link to the product page.
Ecotones Sound + Sleep Machine – Best White Noise Machine That Adapts To The Environment
Priced a little on the higher end, the Ecotones machine is definitely not just a sleep machine.  As we now have Smart Phones, if ever there was such a thing then this would be the Smart Sleep Machine.
Other sound machines function the same – you turn it on to the sound you want and to the level you want, and that's it.  With the Ecotones model, you'll have a sleep machine that adapts to your environment and the sounds and levels it creates.  Utilizing Adaptive Sound Technology (ATS), the Ecotones Sleep Machine will detect background noise and make the proper adjustments, so that your sleep and peace can go on uninterrupted.
For instance, one person reported the sounds of a bouncing basketball from a nearby park causing a disturbance.  Using this machine, the user was able to cover the noise completely.  This machine will allow you to finally rid yourself of those earplugs.
You'll also enjoy the reach and range of the speakers that come with this model.  The speakers on the Sound + Sleep machine faces the ceiling making for full-room, high definition sound.  It's like the difference between a flashlight and a ceiling light.  One is concentrated in one direction, while the other fills the room.  We'll take a wild guess that you'd prefer the latter.
Another nice feature on this machine is the Richness function.  For instance, you can choose to go with an ocean sound, but with the push of a button you can add in an occasional seagull overhead.
While there are many glowing reviews on this sleep machine, some have reported crackling noises and in some cases being able to detect noise patterns.  If these sorts of things are not a cause for concern, and you find yourself in an environment where your noise machine will have to change and adapt with the varying noises and levels, then you may want to consider the Sound + Sleep machine.
The Ecotones Sleep Machine comes in at a compact 6.3 by 4.5 by 5.5 inches and a weight of two pounds.  It is also runs on a powered adapter and allows for an extremely wide variety of timers (30, 60, 90, or 120 minutes). See more HD pictures here.
Sound Oasis Sound Therapy System – Best White Noise Machine For Removable Memory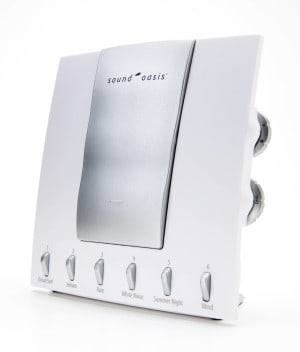 Finally on our list of white noise machine reviews is the Sound Oasis Sound Therapy System.  This machine comes with six authentic nature sounds with the option to power up from batteries or an AC adapter.
Perhaps the biggest draw for this white noise machine is its capability to add sounds.  While it comes standard with six nature options, you'll be able to add new sounds by inserting an optional memory card, which is huge should you find that the standard six that come with it are not to your liking.
A large built in alarm clock give you the ability to wake up to a traditional alarm or the sounds of nature.  The versatility of this sleep machine is also attractive as you'll be able to mount it to the wall, lay it flat or stand it upright.
The optional memory for this machine is a great feature as some have mentioned the wind noise can be a bit off putting.  No need to fret though, as there is other options to choose from, especially with the ability to add more sounds with a simple sound card.
If you suffer from the effects of Tinnitus, this may be the ideal model to help you cope with it, as the manufacturer has reported that the Sound Oasis is also a proven tool for coping with Tinnitus.
The Sound Oasis Sound Therapy System comes in at a size of 6 x 3 x 6.5 inches and a weight of just 1.2 pounds.  If you've been looking for a sleep machine with a sound card option, then check this one out.  Mount it on the wall, lay it flat or stand it up on a table where you need it most. If you're wondering where to buy one from, here's the best price we've found at the time of writing this article.
Things To Consider Before Buying The Best White Noise Machine For Your Needs 
We have looked at the many different options, and have presented the top five white noise machine reviews for you here.  Now, before you make a purchase there are several things you need to think about and consider.  Let's take a look at several of them.
Understanding What White Noise Is
Merriam-Webster defines white noise as "a constant noise (such as that the noise from a television or radio that is turned on but is not receiving a clear signal) that is a mixture of many different sound waves."
The constant noise produced by these machines is things such as nature sounds, fans or even a locomotive.  These noises help to drown out annoying and intrusive sounds such as loud talking, barking dogs or even the dribbling of a basketball.
Guys from HowStuffWorks recently posted this useful video on what the white noise is:
How A White Noise Machine Works
If you have read through the entirety of the different sound machine reviews listed here, then you can see that the white noise machines generate sound in a variety of ways.  Some use an actual motor that powers a fan to produce such noises, while others play on a looping track such as waves from the ocean or a running waterfall.
Most machines play a wide variety of noises for varying lengths of time, and at various sound levels and frequencies.  Some such as the Ecotones Sound + Sleep Machine use Adaptive Sound Technology (ATS) to adapt to the environment, sounds and sound levels to produce appropriate white noise.
The machines in this review also vary in size, structure and speaker availability.  Some are smaller and can transport easily, some can plug into a computer and some have speakers behind or on top of the machine, which affects the sound filling the room.
Why And When White Noise Machines Should Be Used
Usage times will vary from person to person, which calls for the reminder once again that the best white noise machine is the one that best meets your needs.
Most individuals will use one as a sleep aid as an alternative to medication because they have difficulty falling asleep at night or taking naps.  Others may find that the noise where they live can be rather intrusive such as barking dogs or loud neighbors, where white noise can help to cover it up.  Some may find that they cannot concentrate when it's too quiet and need some noise to cover every little noise, such as a co-worker's squeaky chair or the rustling of paper.
There are also others who suffer from Tinnitus, which is a ringing or buzzing in the ears.  Some manufacturers claim the beneficial use of their machines has acted as a coping tool for these sufferers.
When it comes down to it, why and when you would use a white noise machine will be when you need it the most – when outside noises cause you interruption or disruption.   At home or the office, white noise machines can help bring back your peace and sanity.
Criteria To Consider
Here are some things you may want to keep in mind and questions to ask yourself:
Types of sounds – Do I want to listen to nature or machines, like fans or trains?
Will the sound be effective enough to cover the noises around me?
Sound – Is the speaker type and location suitable for the area where it will be used?
Price – Can I afford it? (Tip: it's worth to check out latest 

discounts on Amazon

)
Power options – Battery or plug or both?
Size – Can I travel with it? Can I pack it easily in a bag?
Sleep timers – Do I need a variety of sleep timers?
Warranty – How long is it covered?
Design – Plastic or otherwise
What other features do I personally want?
There are many other things you may want to think about and consider as you search for the best sleep machine, best sound machine or the best white noise machine for your needs.
The reviews above and criteria to think about given here should help you to make the best-informed decision possible.
If all else fails, you can always pull out your trusty earplugs, just kidding – we hope.
>> Check out all white noise machines available on Amazon
Disclosure: Some of the links in this post are affiliate links. As an Amazon Associate, we earn from qualifying purchases. If you click on the link and purchase the item, we may receive an affiliate commission, at no extra cost to you. Learn more
---
Last update on 2023-11-24 / Affiliate links / Images from Amazon Product Advertising API